Birthday Parties!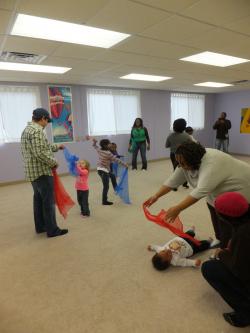 Sing, Dance, Play...and Celebrate Your Child's Birthday at The Music Factory!
WHAT DO WE OFFER?
In addition to our weekly classes, we offer uniquely fun and educational birthday parties and special events for children ages 1-5 years old. One of our highly qualified instructors (you can choose which teacher you would like), trained in the international Musikgarten curriculum, as well as other areas of child development, engages children and adults alike in age-appropriate songs, dances, and activities with musical instruments such as shakers, sticks, drums, bells, and scarves!
Times available are Fridays after 12:30 pm, Saturdays after 9 a.m., or Sundays after 12:00 pm.
Our birthday party themes are suitable for babies, infants, toddlers and preschoolers:
Nursery Rhymes

Farmyard Fun

Under the Sea

All Aboard Trains

Bugs & Birds

Horsin' Around

Teddy Bear Jamboree

And more!
The maximum number of children is 10 plus their parents.

WHAT DO YOU PROVIDE?
You provide invitations, decorations, refreshments, and any desired favors or crafts.

Download our Birthday Party Contract or contact us for more information. Book Today!